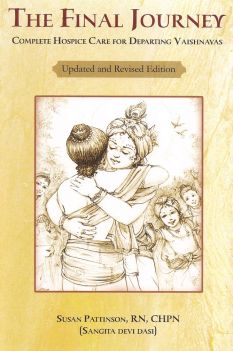 By Sangita Devi Dasi (Susan Pattinson, RN, CHPN, Hospice Educator)
Price: $12.00 
The Final Journey–Complete Hospice Care for Departing Vaishnavas (Torchlight Publishing) by Susan Pattinson, R.N., Certified Hospice and Palliative Nurse (Sangita Devi Dasi).
Increasingly, we hear about members of our Krishna consciousness movement needing end-of-life care when diagnosed with an incurable illness. Aged devotees will inevitably require this care.. Who among us will not eventually be in need of this service? Encouraging us to embrace this situation as an expanding opportunity to serve Vaishnavas, Sangita Dasi integrates the knowledge of hospice care for the dying with the spiritual wisdom of Krishna consciousness. Since its first edition was released over a decade ago, The Final Journey–Complete Hospice Care for Departing Vaishnavas, has become the "handbook and guide" for Vaishnavas around the world. In addition, it has long been "mandatory reading" for the nursing staff at a Catholic-based, in-patient hospice facility on the west coast. Most importantly, it has guided hundreds, if not thousands, of family caregivers and their terminally ill loved ones over the years when faced with end-of-life decisions regarding treatment, medications, and comfort care options. No matter who you are caring for and what his or her spiritual beliefs may be, this updated, 2nd Edition of The Final Journey can assist you in becoming an exemplary caregiver.
2nd Edition, Soft bound, 252 pages.
Chapters include:
What is Hospice Care?

Practical Matters

What is Holistic Care?

Terminal Illnesses

The Grief Process

Pain Management

Symptom Management

Personal Care

Complementary Therapies for Comfort Care

Care of the Caregiver

Signs and Symptoms of Approaching Death

Post-Mortem Care, Cremation Ceremony, and Memorial Service

Grieving, Healing, and Rejoicing for the Departed (Vaishnava)

(Extensive Glossary included)  …and many more topics!
Reviews:
"Sangita's book is compassionate, practical, and wise –Krishna conscious." — Giriraj Swami
"During his final days in Vrindavana in 1977, Srila Prabhupada told his disciples, 'Don't think this won't happen to you." In list of this instruction, I highly recommend this book as a most important contribution to our society." — Sruta Kirti Das, Srila Prabhupada's
Personal Servant, 1972-75
"Death is a prominent subject matter in Krishna conscious philosophy, since it is our chance to go back to Godhead. Yet, the actual process of dying is an uncomfortable topic that we tend to keep at a respectful distance. The Final Journey–Complete Hospice Care for Departing Vaishnavas is the first of its kind in ISKCON. It is a much-needed, simple, and practical guide to care of the terminally ill from a Vaishnava perspective. Drawing on the author's extensive experience as a hospice registered nurse, the book provides a wealth of detailed information. The author's area of expertise is allopathic pain management for the terminally ill, and she argues convincingly that a drug's long-term effect on a dying body is moot, while greater comfort increases the ability to hear and chant (according to our Krishna conscious philosophy). Alternatives are provided as well. This book takes the reader step-by-step through the entire process, and there is no doubt that it is an invaluable resource for everyone." — Dharini Dasi, MA/Applied Sociology/Attorney at Law
"If someone is physically, emotionally, and mentally pain-free, has other symptoms well managed, and is rightly situated spiritually, he will experience an auspicious, most glorious passing away." So affirms Susan Pattinson, RN, CHPN (Sangita Devi Dasi) in The Final Journey–Complete Hospice Care for the Departing Vaishnavas, where she gives relevant information for the care of the dying gained from years of practice as a hospice nurse and practice of sadhana bhakti (Practice of Krishna consciousness) under His Divine Grace Srila Prabhupada, her spiritual master. Indeed, the book is a veritable 'gold mine' of valuable information. Her presentation, showing how the aforesaid can be realized, is exhaustive and profoundly sensitive. Painstakingly she indicates how hospice care for cartain terminally ill can facilitate that glorious death fro which all Vaishnavas aspire."  —The Late Sarah Caner Schofield, Ph.D. (Saranagati Devi Dasi), Former Director of Volunteers, Albert Einstein Medical Center Hospice
"I had the distinct pleasure of reading The Final Journey–Complete Hospice Care for Departing Vaishnavas. I found it very simple, informative, and appropriate for both devotees (of Lord Krishna) and non-devotees alike. As a Hospice Physician and Medical Director, I strongly recommend this book to families of terminally ill patients as well as to hospice professionals." –– Dr. Thiruvalam P. Indira, M.D.
To purchase your copy of The Final Journey, simply click on our DONATE Button on the UPPER RIGHT SIDE of this page. This will take you to our payment options, including PAYPAL.
(PLEASE INCLUDE $2.00 FOR SHIPPING WITHIN THE UNITED STATES.
FOR INTERNATIONAL/OVERSEAS SHIPPING THE COST WILL DEPEND ON HOW MANY COPIES YOU ARE ORDERING. FOR 5 – 10 COPIES, THE U.S. POST OFFICE CHARGES $25.85 (U.S. DOLLARS) FOR INTERNATIONAL SHIPPING WITH 6 -10 DAYS ARRIVAL TIME. FOR JUST ONE COPY OF THE FINAL JOURNEY, PLEASE INCLUDE JUST $5.00 (U.S. DOLLARS) FOR INTERNATIONAL SHIPPING.